It's no secret that New York City can get very loud and overwhelming, but over the years we've managed to find places that allow us to enjoy our favorite past-times —books, arts and dining— at a slower pace that's more conducive to appreciating good things and the people who make them.
Flavie halais
founded her creative consultancy
Delfina
around the same time that speaklow was born. We've been friends for a while and share a mutual interest in traveling, design and craftsmanship. When she decided to visit us last summer, we curated an itinerary featuring our current favorite spots in new york. The four-day weekend was filled with gallery visits, neighborhood strolls and cocktail sipping.
thursday
—
Chelsea, West Village, SoHo, Bowery, chinatown
A smart way to plan your trip to New York City is to start in 'the city'(otherwise known as Manhattan) before heading to quieter neighborhoods to manage your energy. We typically get into town by A/C train, getting off at 23rd street, and then making our way through Chelsea's numerous art galleries.
Roberta Smith's
reviews in the New York Times, and her husband
Jerry Saltz's
in New York Magazine, are always great sources of recommendations. This time, we checked out 'The fold in the horizon', a group exhibition featuring Brazilian artists held at
Nara Roesler
(511 W 21St). Then, we headed to
David Zwirner
(525 W 19th St) to see an impressive display of recent works by Barbara Kruger.
Next on our list was a regular pilgrimage to
Comme des Garçons
(520 W 22nd St), speaklow's favorite fashion label. Whenever we're in the neighborhood, we make sure to drop by to browse the collections and say hi to Michiko, the manager, who always wears the most amazing outfits. The discreet façade features a futuristic aluminum tunnel designed by now-defunct Future Systems that was custom-built at a British dockyard, then shipped to Manhattan. It shelters the store's labyrinth-like interior space from the street's lively chaos so that visitors can feel protected and free to roam the space.
The High Line isn't far, and while on some occasions we may hop on and off in between gallery visits, this time we headed to
Bar Pisellino
(52 Grove St) for cocktails. The bar specializes in Italian drinks, and due to its location at a busy intersection, it's perfect for people-watching while sipping on a mezcal Negroni.
We stopped at
Soho News International
(186 Prince St) to stock up on magazines—the store features a vast array of otherwise hard-to-find indie titles—on our way to the
New Museum
(9235 Bowery) Thursday evenings have pay-what-you-can admission allowing patrons to access outstanding art at affordable rates. We went in to see video works by Bárbara Wagner and Benjamin de Burca, which explored themes around identity, religion, politics and culture in present-day Brazil.
We ended our evening in Dimes Square for a well-deserved dinner at
Wu's Wonton King
(165 E Broadway), a classic spot for Chinese dishes that's perfect for larger parties as well. Had we had more energy, we'd have stopped at
Clandestino
(35 Canal St) around the block for late-night drinks, but we were worn out after hours of walking, so we went home.
outside the comme des garçons store, we spotted a young stylish man head to toe in, obviously, comme des garçons
flavie at nara roesler gallery
aperitivo hour at bar pisellino
the new museum's iconic stacking silhouette designed by SANAa
be ready to get lost in magazine heaven at soho news international
Friday
—
lower east side, East Village, NoHo, Clinton Hill
We started the day in the Lower East Side at
Perrotin
(130 Orchard St) to check out their ongoing art shows, including a solo exhibition by Gregor Hildebrandt—his work using analog media like vinyl and cassette tapes is mesmerizing.
We stopped by
Mast Books
(72 Avenue A), which features a carefully curated selection of new and used books ranging from fine art to architecture, poetry and photography They also sell our favorite tote bags that are incredibly sturdy and well-sized. Another great bookstore nearby is
East Village Books
(99 St Marks Pl), don't forget to bring cash.
We headed across the street to
Somtum Der
(85 Avenue A) for a light lunch. This restaurant specializes in Isan-style food from Northeastern Thailand, think grilled meats and vegetables with sticky rice.
After lunch, we headed to
Tokyo7
(83 E 7th St), a small but well-stocked consignment store with a fast-rotating offering of cult brands —think Comme des Garçons, yohji yamamoto, and dries van noten— as well as lesser-known but equally interesting designers. We always see people with amazing styles either shopping or selling clothes there, which is why the selection never disappoints. It's a great place to start building your wardrobe at a reasonable price.
We walked north toward
Makari
(97 3rd Ave), a treasure trove of Japanese crafts, contemporary art pieces and rare vintage finds. Each piece is an absolute delight to look at and is selected by the store's owner, Yuko, during her sourcing trips to Japan.
We stopped at
C'H'C'M'
(2 Bond St), an unassuming clothing store that's easy to miss due to its sub-level location. Sweetu, the owner, curates a great selection of independent menswear brands from around the world, like Evan Kinori, and also showcases his own line. The minimalist setting provides a welcome break from lower Manhattan's bustling streets.
Across the street is our favorite photography bookstore,
Dashwood Books
(33 Bond St). The manager, Miwa, always surprises us with her seemingly infinite knowledge of photography. For the past seven years, she's taken pictures of the store's clients everyday, and recently published them in her very own book —you may even find us in there!
Bars in Manhattan can get overcrowded on Friday evenings, so we ubered back to Clinton Hill in Brooklyn to spend time at
bar Laika
(224 Greene Ave, Brooklyn), one of our go-to places for great cocktails and fresh, simple bites—we recommend the potato dumplings and the olive oil orange cake.
an artwork made of cassette tapes by Gregor Hildebrandt at perrotin gallery
mast books is a must stop every time we are in the east village
delicate handmade ceramics at makari
enter c'h'c'm' underground entrance for understated style
bar laika's artsy bus shelter billboard courtesy of lawrence weiner
saturday
—
Ridgewood, East Williamsburg, Bed-Stuy
We've been spending more time in Ridgewood, which is becoming popular among people in our social circle. With its tree-lined residential streets, cozy cafés, and slower pace, the neighborhood definitely appeals to those looking for a more laid-back lifestyle, without being too far from the rest of the city.
We had brunch at
Plein Air
(68-38 Forest Ave) before heading to
tihngs
(60-50 Catalpa Ave), a vintage shop featuring curios and collectibles curated by artist Eric Oglander (the store is open by appointment only, as well as some Saturdays). We strolled around the neighborhood and checked out some of its older Eastern European shops.
We headed to
Amant
(315 Maujer St), a private arT center in East Williamsburg designed by SO-IL, to see works by Carla Zaccagnini and Clara Ianni. We lingered in the quiet courtyard—there's a café, in case you want to enjoy the serene space and stunning architecture for a bit longer.
After exploring East Williamsburg's industrial streets, we checked out the brick-and-mortar location of
Yun Hai
(170 Montrose Ave), a mostly-online Taiwanese pantry, before heading next door to
Win Son Bakery
(164 Graham Ave) for late-afternoon asian-inspired cocktails and pastries, and more people-watching (our favorite sport).
For dinner, we had a reservation at
Bunny
(449 Nostrand Ave), a neighborhood favorite. Owners Severin and Funda, a married couple from Hamburg and Istanbul, offer a mix of tapas-like dishes from their respective countries in a low-key setting with homey vibes. The place feels intimate due to its small size, but that also means there's little chance of getting a table without a reservation. We love the attention to detail—the vintage light fixtures, the high-end sound system, the record collection—and the simple, comforting food. Expect some great conversation with the staff, a carefully curated
playlist
and strong cocktails.
AN eclectic ARRANGEMENT OF FOUND objects at tihngs
the kitchen counter inside plein air
outside morscher's pork store, a neighborhood butcher & deli
nature meets architecture in a tonal palette of colors and textures AT AMANT
a BITTER AND SWEET COMBO to END a delicious meal: negroni and baklava
the warm and intimate setting at bunny makes us feel like home
sunday
—
Bed-Stuy, Prospect Heights, park slope
It was Sunday, it was July, and it was very, very hot. We wanted to take it a bit easier and stay closer to home, so we started the day strolling along Tompkins Avenue where the weekly summer fair was taking place. It's a great way to support local businesses and discover new ones while enjoying some great live music and street food. Our favorites are the bookstores
The Word Is Change
(368 Tompkins Ave) and
dear friend books
(343A Tompkins Ave). For an easy lunch, we like the unpretentious
Macosa Trattoria
(310 Tompkins Ave) for its pared-down menu of light Italian dishes.
We usually avoid visiting major tourist spots on weekends to stay away from large crowds, but this was Flavie's last day in town and we wanted to catch the Virgil Abloh exhibition at the
Brooklyn Museum
(200 Eastern Pkwy). It didn't disappoint—seeing his expansive collection of work assembled under one roof was truly impressive. Everyone—parents, kids, groups of friends—seemed genuinely happy to bond over shared interests and to see streetwear being recognized by an institution that's historically been known for gatekeeping culture.
We leisurely walked through park slope and Prospect Heights, stopped for a quick but highly rewarding foot massage at a Chinese spa, then met our friends for a fulfilling meal at
Geido
(331 Flatbush Ave), a family-run Japanese restaurant, and a fixture in Prospect Heights since 1985. We walked back to Bed-Stuy and said goodbye to each other before heading home, hoping we'd meet again soon in New York or elsewhere.
morning light at speaklow
we found a secret garden in charming park slope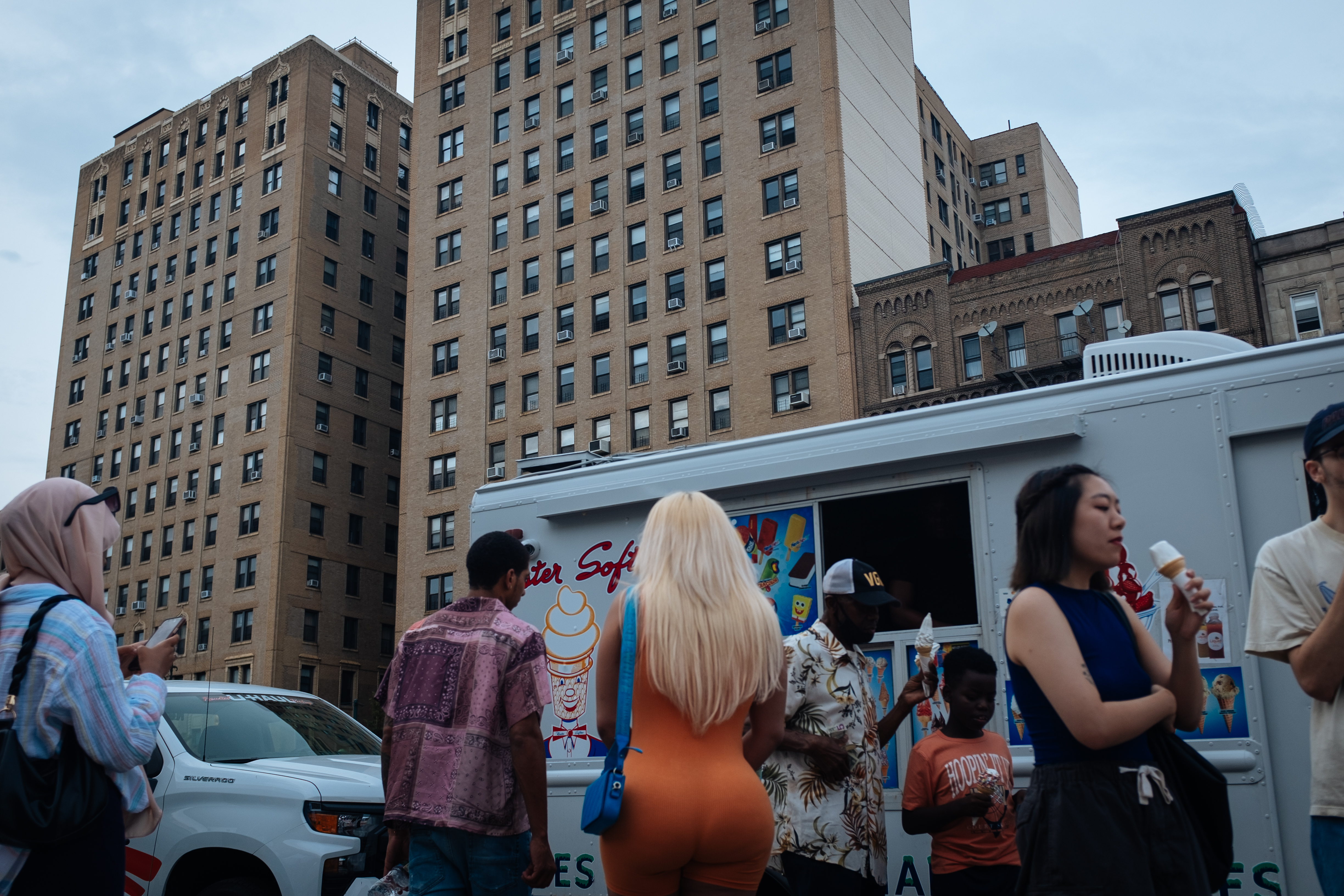 the crowd enjoyed their summer treat outside the brooklyn museum
grand army plaza
bustling sunday dinner scenes at geido
Credits

itinerary: duy pham & michael brown
Text & photography: Flavie Halais
edit & Design: Duy Pham